You're here: Main page > 4.1. Period from 1842 to April 1945 > Trolleybus of the German type KEO I (war unit bus standard size 1)
Trolleybus of the German type KEO I (war unit bus standard size 1)



Producer: Firma Fahrzeugbau Schumann Werdau i.Sa./Germany

The trolleybus of the German type KEO I (war unit bus standard size 1) had a

chassis of the Maschinenfabrik Augsburg-Nürnberg (MAN) Nürnberg/Germany,
the superstructures came from the company Fahrzeugbau Schumann GmbH Werdau i.Sa./Germany and
the electrical equipment was from the Siemens-Schuckert-Werken (SSW) Berlin/Germany.
The German type KEO I trolleybus (war unit bus standard size 1) drove on the Friedrichsbrücke. It was in service from 1941 to 1962.

A vehicle of this type unfortunately doesn't exist in Eberswalde. A vehicle of this type exists in Klagenfurt, Austria. It is an original vehicle from Klagenfurt. The Kärntener Eisenbahnfreunde club is the owner of this vehicle.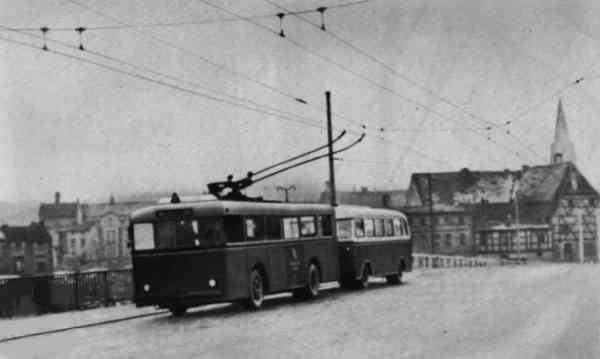 This photo show the trolleybus no. 02II of the German type KEO I (war unit bus standard size 1) with trailor (year of construction 1943) at the bus stop Markt going in the direction toward Karl-Marx-Platz.